Death to the 1500-mile Caesar Salad!
Before you sit down to eat that poached salmon, consider how far it has traveled to meet you for dinner. If it's from the Pacific Northwest, it's traveled at least 2700 miles, provided it got a direct flight to New Orleans. Now, consider how far those gulf shrimp from the local farmers market traveled. Probably just around 100 miles. By choosing the shrimp, you would be getting a fresher product. Why not consider taking the next step by taking the eat local challenge?
To take the eat local challenge is to commit to getting most to all of your food from local sources. Why should you eat locally? Or take such a challenge? One reason is that food grown locally did not travel far to get to your plate, thus conserving energy and emitting fewer greenhouse gases in transport than something grown across the continent or half a world away. Another is that buying locally-produced food supports your region's smaller farms. Helping these farmers stay in business contributes to building local food security and keeping lands open instead of built up.
Tips to help you with Eat Locally:
Commit to eating locally (however you choose or are able to define that, whether it be food from your backyard or produced within your state). Start small–for example, by replacing your fruit or vegetables with locally grown produce or coffee roasted in your region.
Shop at your local farmers market (Use our guide to find one in your neighborhood.)
Can, freeze, or dry your summer produce so you can enjoy it year-round.
Ask your supermarket butcher or produce manager where their food comes from. Request locally grown produce, eggs, dairy, and meat. Do the same thing in restaurants you frequent, and get your friends to do the same.
Read some of the guides explaining why you should care where your food comes from, such as this one from the 100-Mile Diet, or this slightly different take from the Sustainable Table Seasonal Food Guide.
Grow some of your own food at home (even apartment-dwellers can grow herbs inside!) or in your community garden.
Modify your expectations. Not all food is available locally all year round; not all foods are available locally, period. Don't like beets? Try winter squash, dark, leafy greens, potatoes, citrus fruits, apples, storage onions, winter berries, and other foods available from local producers during the winter. (And thaw the vegetables you froze over the summer.)
Finally, be realistic. Olive oil probably isn't going to be available locally for most people; same thing with bananas, baking products, and many other items people eat every day. Don't beat yourself up over a few ingredients from outside your foodshed; the point is to make as much of an effort to eat as much local food, and be as conscious about your eating habits, as possible.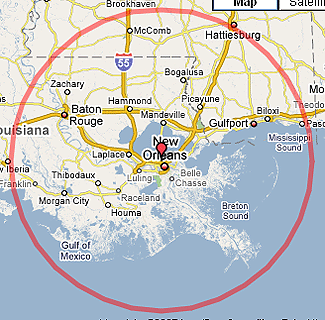 Go really local by eating food from only a 100-mile radius.
If you have decide to take the eat local challenge, you are in luck. New Orleans and Louisiana in general is luckier than most other places. We have so much delicious local products, including Ponchatoula strawberries, Plaquemines Parish oranges, Ruston peaches, Bergeron's Pecans from New Roads, La and Seafood and Fish from the Gulf.
And if you are feeling extra-adventurous, limit your local food suppliers to those in a 100-mile radius from your home (i.e., the 100-mile diet). Use the map to figure out what is within 100-miles from New Orleans.
(We used excerpts from Erica Barnett's worldchanging.com article.)
More Info:
Plenty: One Man, One Woman, and a Raucous Year of Eating Locally
by Alisa Smith, J.B. Mackinnon
Smith and MacKinnon revolt against the industrial model of food distribution and determine to spend a year eating nothing raised or cultivated beyond a 100-mile radius of their British Columbia home. They seek not just health benefits and fuel efficiencies but they also want to reconnect with small, local growers, millers, fishermen, and ranchers to create a community where the consumer knows both where the food comes from and who has produced it.
This site occasionally reprints copyrighted material, the use of which has not always been specifically authorized by the copyright owner. We make such material available in our efforts to advance understanding of issues and to highlight the accomplishments of our affiliates. We believe this constitutes a 'fair use' of any such copyrighted material as provided for in section 107 of the US Copyright Law. In accordance with Title 17 U.S.C. Section 107, the material on this site is available without profit. For more information go to:
US CODE: Title 17,107. Limitations on exclusive rights: Fair use.