by Elizabeth Brake
By now, most environmentally-minded people have probably heard of the 100 Mile Diet – not a weight-loss plan but the name of a book by two British Columbians describing their year of eating locally. In the way these things happen, whether due to the machinations of the publishing world or the placement of the stars, another book with the same idea, and a whole lot more local to New Orleans, came out around the same time.
In Animal, Vegetable, Miracle: A Year of Food Life, Barbara Kingsolver – author of the actually-very-good Oprah's Book Club book, The Poisonwood Bible – tells the story of her family's year-long stint of local eating in the Appalachians. As luck would have it, her husband, Steven Hopp, is a professor of environmental studies, and her college-student daughter, Camille, an amateur nutritionist, so the book comes complete with meal plans, recipes, and academic blurbs on the science and economics behind the project (lots of statistics in handy bite-sized chunks).
The Kingsolver-Hopps moved to a small Virginia farming community to raise turkeys, chickens, and just about every fruit and vegetable they could grow. For one year, they ate only local foods (although with a certain elasticity – one month was spent enjoying the local food in Tuscany, Italy, and each family member got to choose one 'cheat food'). They sowed, weeded, harvested, dried, canned, preserved, froze, scavenged, and slaughtered. (As a long-time vegetarian, I found the turkey-slaughtering aspect a bit gruesome, but Kingsolver provides a thoughtful defense of eating animals raised with kindness.) The whole family participated – even the younger daughter, Lily, took responsibility for a small egg operation. What they couldn't grow themselves, they bought, mainly at farm markets or from neighboring farmers. The book gives a great sense of life in the old farmhouse, their community, and what hard but rewarding work farming is. There are two chapter-length 'travel features', the trip to Tuscany, and a visit to an Amish farm family. And there are plenty of hilarious moments – many involving the continuing saga of their rafter (yes, that is the group name) of turkeys, especially when Kingsolver has to play matchmaker for turkeys whose mating instinct has been bred out of them.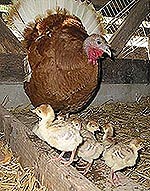 One of Kingsolver's successful turkeys